Hello,
We are a game studio and our pipeline uses Maya to export a proprietary file format that our engine can read. We want use Pyblish to check the content before being sent to our custom exporter and we want Pyblish's UI to reflect our scene hierarchy. Our Maya scenes are typically structured like this:
Asset1

Render_mesh_LOD0

mesh_001
mesh_002
mesh_003
Render_mesh_LOD1
Render_mesh_LOD2
Render_mesh_LOD3
Shadow_mesh
Collision_mesh
LOD_Settings
Asset2
Asset3
etc.
This Maya scene has 3 assets being exported. each asset has LOD render meshes, a shadow mesh, a collision mesh, and a LOD coordinator. Viewing this data in Pyblish is a bit rough because I have to create a bunch of unique families and the UI shows every asset by default.
Right now I have a family being generated for each asset type and mesh type, but the UI is becoming really messy because our Maya scenes can have lots of items in it. The artist should only have to see the high level details of the scene when running validation. If validation fails, then they can walk down into the hierarchy and find the offending item.
Ideally I would want the Pyblish UI to show something like the Maya outliner which I can collapse groups and the artist can open them up if they need to inspect an error.
Something like this: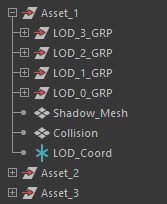 I want to propose to expand the idea of a family to include parents and children. A family would be an asset, a parent would be an export type(render, collision, shadow, etc), and a child would be a DAG object in the scene. Or some similar structure to that. It is important that if any child fails validation then the parent and family would also show a failure.
Could you point me to the spots in the code that I would need to change to implement this need? Or would this be a request that you could implement on your end?
Thanks,
Matt